News
In the News: Celebrating 50 years of art in Russellville
Posted on December 6, 2017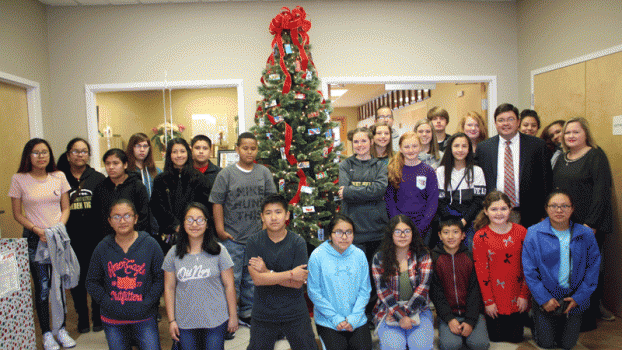 Originally published in the Franklin County Times.
With the joy the Christmas holiday brings, people find many reasons to celebrate during this festive season. Some celebrate the birth of Jesus Christ; some celebrate the giving and receiving of gifts; and some celebrate the chance to spend time with family. The City of Russellville has found a new reason to celebrate this year: the 50th year of art in Russellville City Schools.
As Mayor David Grissom said in his official proclamation Dec. 4, "Throughout the years, the students have had many opportunities to showcase their talent."
Grissom signed said proclamation for the Russellville Middle School art students and art teacher Melissa Grissom at city hall as part of a special field trip. The students were invited to city hall to eat lunch and view the tree that stands in the lobby of city hall – which was decorated by hand-painted ornaments the students made themselves.
"I am presenting this proclamation to Mrs. Grissom to celebrate the art program in Russellville and thank them for all of the work they have done," David Grissom said.
The proclamation recognized that 2017 marks the 50th year RCS has had an art program and declared Dec. 4 as Russellville Middle School Art Day and Dec. 5 as Russellville High School Art Day.
"Visual arts play an important role in future job opportunities. It's important that students learn about them," Melissa Grissom said.
It was the students' own creativity that determined how they would paint their individual ornaments for the city hall Christmas tree, according to Melissa Grissom. There are birds, elves, Christmas trees and Rudolph, just to name a few.
"Some of them are very detailed, and it really expresses their personality," she said.
Students will also be making Christmas cards based on their ornament paintings. These cards will be available to the public to purchase. Those interested in purchasing cards should call Russellville High School at 256-331-2110 and speak to Melissa Grissom.
The handmade ornaments and cards aren't the only holiday festivities the art department has participated in this year. For "The Roxy's Legend of Toyland," Russellville High School art students painted the displays on the outside of the building. They incorporated classic images and new ideas into the paintings, Melissa said.
"We were actually able to use an original wooden nutcracker cutout for it and the original lettering from when the show was put on years ago," she said.
In the past, the art students have decorated Christmas trees for the Tennessee Valley Museum of Art in Tuscumbia.
"I think it's important that everyone in the community supports each other," said Melissa Grissom, "including when it comes to the arts in all forms."