About David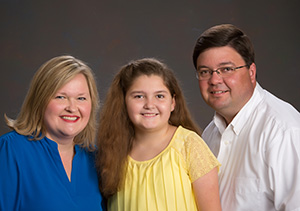 David Reed Grissom was born August 20, 1972, to Judy Keeton Grissom and the late Robert Reed (Bob) Grissom. He is a lifelong Russellville resident. He attended the Russellville City Schools and graduated from Russellville High School in 1990. He attended Northwest Shoals Community College, Phil Campbell, from 1990-1991, and then transferred to the University of North Alabama, Florence, where he received a B.S. degree in Marketing and graduated magna cum laude in 1994.
He is married to Melissa Fuller Grissom who is an art teacher at Russellville High School. They have one daughter, Kate Reed Grissom, who is 11 years old and in the sixth grade at Russellville Middle School.
David is President of Alabama Gun & Pawn, Inc. in Russellville (since 1997); Alabama Title & Pawn of Haleyville, Inc. (since 1998); Alabama Title Pawn, Inc. in Moulton (since 1999); Alabama Title Pawn of Red Bay, Inc. (1999-2016); Alabama Super Pawn, Inc. in Sheffield (since 2000); Cash Spot in Russellville (since March 2007). He was Vice-President of Diamond House, Inc., in Russellville from 1990-2000 and was Manager of Grissom Car Wash in Russellville from 1988-1990.
David currently serves as Mayor of the City of Russellville (since 2012). He was elected as a member of the Russellville City Council District #5 and served from 2008 – 2012. He served as a member of the Community Spirit Bank Board of Directors (2007-2016), Community Spirit Bank Advisory Board (2000-2016), and was a member of the Audit Committee of Community Spirit Bank. He is a member of Board of Directors, Title Pawn Council of Alabama, Birmingham; member of Board of Directors of Council for Fair Lending, Birmingham; lifetime member of Russellville Lodge #371, member of Scottish Rite 32nd Degree Valley of Birmingham, member of Cahaba Shrine, Huntsville, and member of the Franklin County Shrine Club, Russellville. David and his family are members of South Side Baptist Church.